Thanks Molly for presenting the case of a young woman in primary care for aural fullness and episodic L>R "dripping" sound in her ears – found to have eustachian tube dysfunction from middle ear myoclonus! This was a great opportunity to review our history taking for otologic complaints, redefining tinnitus, referral decisions, and management of eustachian tube dysfunction!
**Shameless reference to a previous Zion ambulatory report blog on approach to tinnitus!
Consider the following exam maneuvers when evaluating patients with hearing/otologic complaints:
External ear – evaluate the pinna for pain/rash, TMJ for clicking/sticking, mastoid process for pain
Middle/inner ear – otoscope exam! Evaluate for presence of cerumen (and have removed by MAs if can't see TMs!!), appearance of TM (should be shiny & translucent), presence of TM retraction/effusion/perforation
Nose, sinus, oropharynx exam – check for signs of allergic rhinitis, sinusitis
Check for bruits – neck, mastoid, and preauricular areas if c/o pulsatile tinnitus
Neuro exam – especially if complaints of headaches, balance/gait dysfunction, visual complaints, vertigo!
Gross hearing exam – can use whisper test or finger rubs
Tuning fork exam if complaints of hearing loss: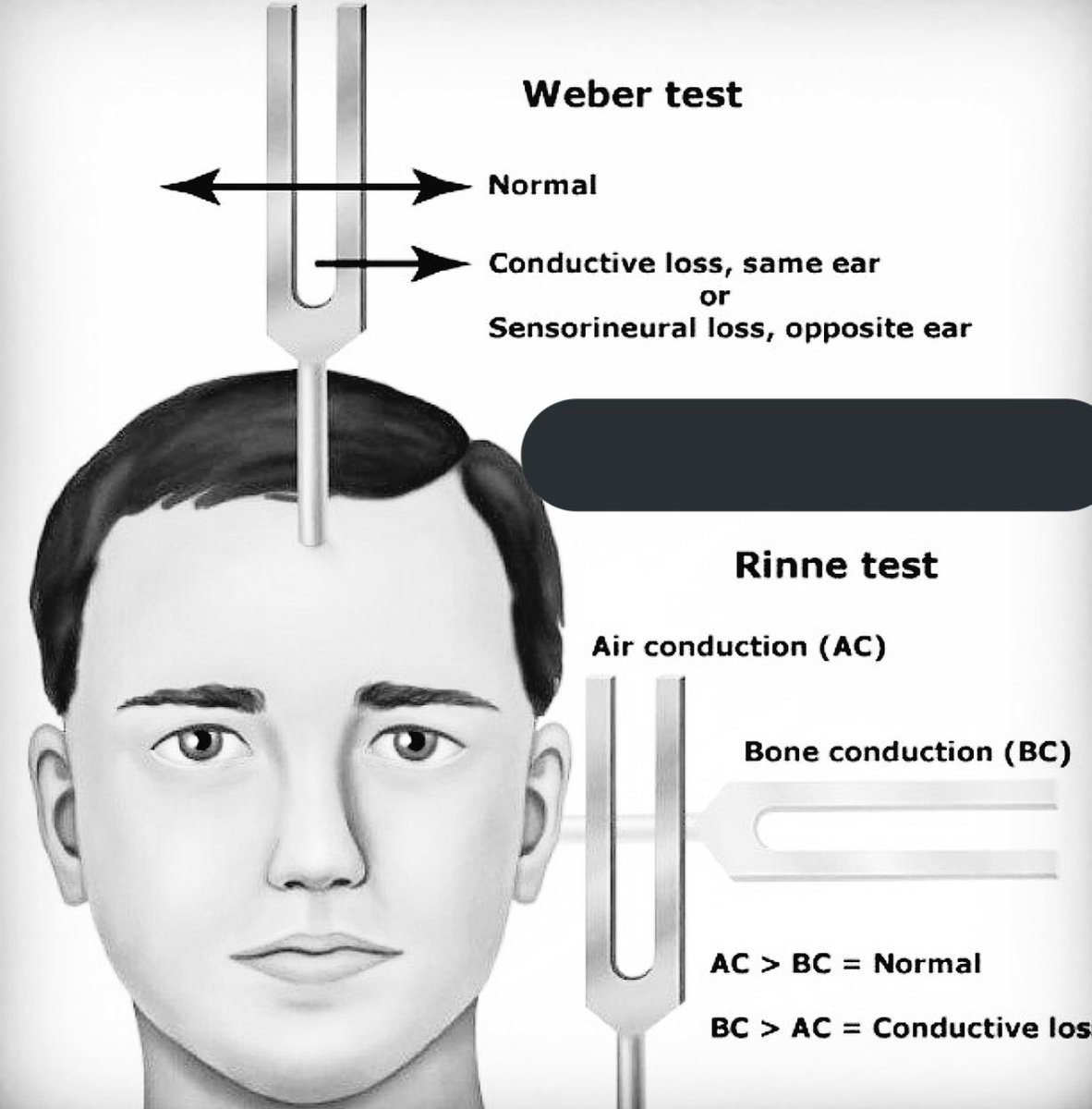 Remember tinnitus is ANY perceived sound in the absence of an external source – two broad ways to differentiate etiology:
**Steph shared a key tip – ask patient's to "mimic the sound they hear", can be easier than asking patients to describe in words!
Vascular – key features = pulsatile (heartbeat!), positional, associated with bruits
Non-vascular – most common cause = presybacusis but see below for a wide variety of causes!
*Make sure to rule out barotrauma and head injury as possible etiology of tinnitus!
Key features of middle ear spasm/myoclonus:
Unilateral clicking, buzzing, or "dripping" tinnitus
Sometimes examiner can hear the sounds
Caused by repetitive and synchronized contractions of the tensor tympani and stapedius muscles
Very rare!
Treatment is usually conservative – manage expectations, limit factors that exacerbate tinnitus (stress reduction, sleep hygiene, limit caffeine intake, stay hydrated), for severe cases can consider botox or surgery!
The limited treatments for Eustachian tube dysfunction:
Most important – treat the underlying cause!!

Allergic rhinitis – intranasal steroids, antihistamines
Rhinosinusitis – intranasal saline (Era swears by NeilMed Nasal Rinse!), intranasal steroids, +/- antibiotics
Laryngopharyngeal reflux – dietary modifications

In the

absence

of one of the above causes, very limited data to support our commonly used medications – benefit lacks for systemic decongestants like pseudophed, antihistamines, nasal steroids!
References:
Wu V, Cooke B, et al. Approach to tinnitus. Can Fam Physician. 2018 Jul; 64(7): 491–495.
Evernote:
https://www.evernote.com/l/AN1IJhqrGSxLA4sEDQc4odjN2opUlcNm0ic/